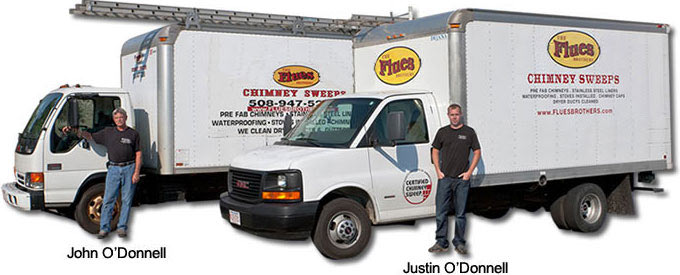 Now with Lakeville and Plymouth Locations
The Flues Brothers Chimney Sweeps was established twenty nine years ago by brothers James and John O'Donnell.
Today John O'Donnell and his son Justin O'Donnell continue to carry on the business with a dedication to quality and professionalism.
The Flues Brothers Chimney Sweeps is a full service chimney sweep company offering stove sales and installing chimney liners and caps, waterproofing, prefab chimneys, dryer duct plus gutter cleaning.
We are certified by the Chimney Safety Institute of America and active members of the Massachusetts Chimney Sweep Guild. Licensed in the state of Massachusetts and Fully Residentially and Commercially Insured.
Chimney Safety Institute of America #1076

Home Improvement Contractor Licence # 129114

Construction Supervisor Licence # 101098
CERTIFIED, FULLY INSURED SERVICES